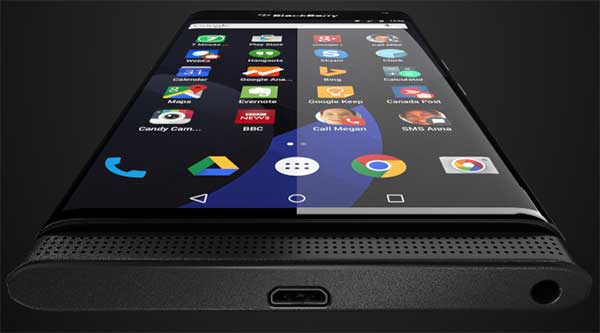 As more and more smartphone brands create better and more sophisticated Android phones, there's been one name missing from the race: Blackberry. Blackberry has continued to develop devices; their BB10 OS has its adherents, who say they prefer it to Android. But, for years, the mobile device maker who first gave us extended capabilities like email and web surfing has stayed away from developing for the Android platform. However, leaked photos seem to indicate that the newest Blackberry device will run Android instead of Blackberry's OS. Here are a few of the intriguing details:
A Shapely, Curved Display
Taking a page from the Samsung Galaxy S6 Edge, the leaked Blackberry Android phone, currently known as "Venice," appears to have rounded edges.
AT&T Service and a Full Android Market
Based on the many Google app icons shown on leaked images, the new Blackberry Android phone will feature access to the full array of Google applications. Rumors also indicate that the phone will be offered exclusively by AT&T.
Slide-Out Keyboard
Blackberry has been famous for their keyboards in the past. Currently, there are a ton of Android phones on the market, but no high-end devices that feature a physical keyboard. If you are frustrated with on-screen keyboards, the new device from Blackberry could be a winner for you. The Blackberry Android phone's keyboard appears to slide vertically from the bottom of the phone instead of forcing you to turn the phone sideways in order to type.
Rumors of a Blackberry phone with an Android operating system first started showing up last month. Evan Blass, the blogger who originally posted the leak has a history of accurate tech leaks. For Blackberry fans who desire the flexibility of the Android OS, this could be what they have been waiting for. The device is said to launch in November, 2015, according to Phone Arena. For additional specs, please visit their website.