Ten years ago, Samsung unveiled the first ever Galaxy phone. It was their first smartphone powered by Android. It came with a 480p display, 8 GB of storage, 128 MB of RAM, a 5 Megapixel camera and a 3.5mm headphone jack.
Introducing the Samsung Galaxy S10 & S10 Plus
A lot of things have changed over the last ten years of Galaxy phones. On Wednesday, February 20, 2019 Samsung unveiled the 10th iteration of their Galaxy smartphones, the S10 and S10 Plus. The also announced a more budget-friendly S10E, a 5G version of the S10 and their first foldable smartphone. But more on that later. We want to take a look at what makes the Samsung Galaxy S10 and S10 Plus so remarkable.
Samsung's Impressive Hardware
Samsung consistently produces phones with incredible hardware, and the new S10 and S10 Plus are no different. The phones feature arguably the best display on the market with 6.1" and 6.4" AMOLED displays. You can get either 8GB or 12GB of RAM, and storage ranges from 128 GB to 512 GB in the S10, 128 GB to 1 TB in the S10 Plus, and the S10 Plus can be expanded to 1.5TB of storage with a microSD. They will also be among the first phones available in the US with Wi-Fi 6, meaning they can handle faster download speeds than previous models. Both models also feature wireless charging, the ability to wirelessly charge a second device and an ultrasonic in-display fingerprint scanner.
Smile for the Camera
Cameras in smartphones have taken great leaps over the past several years. The S10 and S10 Plus feature identical rear camera systems, featuring a standard, telephoto and ultra-wide lenses. The S10 includes a single front-facing camera while the S10 Plus includes dual front-facing cameras, but unlike the Pixel 3, the second camera is not a wide-angle lens and only for additional depth effects. The cameras will undoubtedly be praised among the best in smartphones as each of the predecessors have.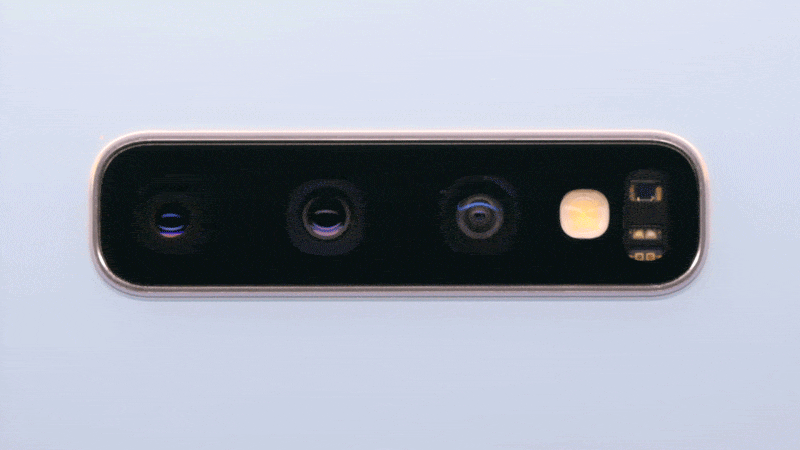 The Headphone Jack Lives!
Bravo, Samsung. Thank you for continuing to prove that the headphone jack has a place on modern smartphones. With smartphone manufacturers making the decisions to ditch the headphone jack citing that it took up too much space preventing a pursuit of all-screen phones, Samsung has stood strong. The Galaxy phones have succeeded in showcasing an impressive screen to body ratio while maintaining the simple piece of technology that could save us from unnecessary amounts of dongles. The below image just proves that Apple and Google could easily have kept the headphone jack, but they likely won't go backwards on that decision anytime soon. In the meantime, if you're looking for the best possible phone with a headphone jack, this is it.
Android 9 with Samsung One UI
With some of the best hardware in the industry, a solid camera system and a headphone jack, what could possibly prevent the newest Galaxy phones from being crowned the undisputed king of Android? Software. Even though the days of Samsung's nightmarish TouchWiz skin are in the past, many Android enthusiasts are still skeptical of more obtrusive Android experiences. Even though the new One UI introduced by Samsung is a vast improvement Samsung is historically slow with providing updates to their devices. If fast updates aren't a priority to you, this isn't a problem at all. For others who like having the newest operating system or the latest security updates, it could be a deal breaker.
Unfolding the Future
The device grabbing the most attention from Samsung's Unpacked event was the revolutionary Samsung Fold. The foldable phone utilizes Samsung's Infinity Flex Display that allows the device to unfold from a 4.6-inch phone into a 7.3-inch tablet. The technology is certainly impressive, but with a hefty price tag of $1,980 and the likely bugs of first -generation tech, this one is probably worth skipping until the second generation of foldable phones. Samsung also unveiled two other phones, including a budget-friendly Galaxy S10E and a 5G version that will be released at a later date. Stay tuned for a more in-depth look at Samsung's newest devices.
Will you be upgrading to one of Samsung's newest phones? We will have new custom ProClip USA device holders for you! Let us know which phone you plan on upgrading to, and we'll notify you as soon as they become available.