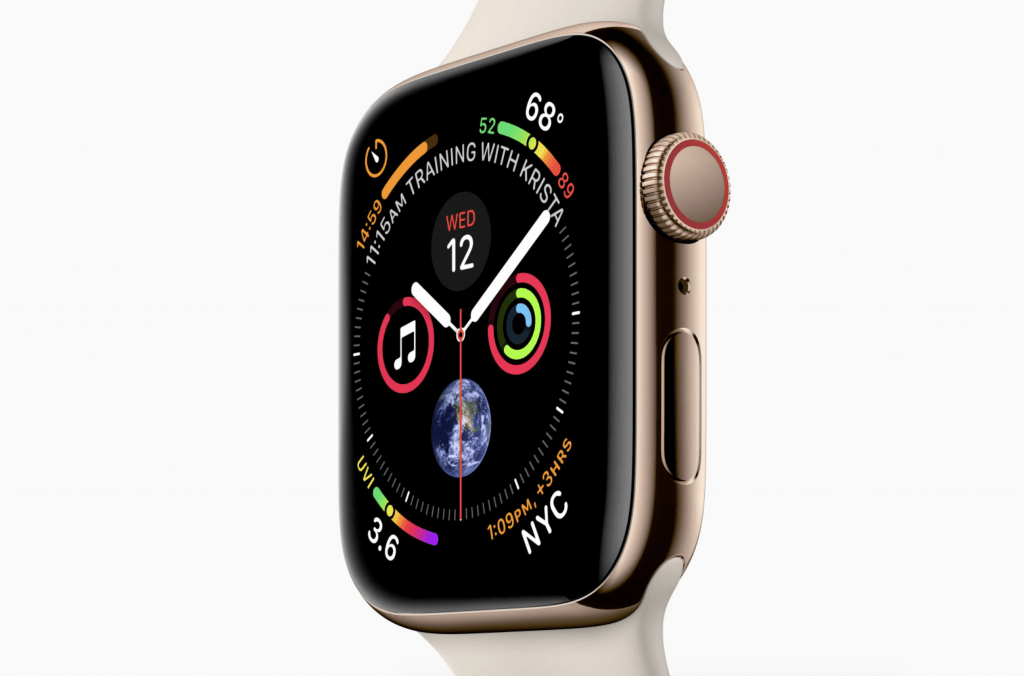 Apple Watch Series 4 devices became available on Friday, September 21. Whether pre-ordered or picked up in store, early reviews are providing glowing feedback. This is in contrast to mixed reviews received for the newly released iPhone XS. Apple Watch Series 4 is the first form factor modification with a 30-35% larger screen, a thinner housing, and a more rounded design.
Apple Watch Series 4 Video Reviews
As noted in the following reviews, the most striking new feature is the increased screen size. Previous Series Apple Watch models had screen sizes of 38mm and 42mm. Both are bumped to 40mm and 44mm with a more edge to edge screen. Borrowing technology from the iPhone X design, the OLED screen stretches to the corners.
While Apple did not outright claim there was an increased brightness level, some reviewers have noted feeling like the screen is brighter.
Above and beyond the new screen size, the newly FDA approved EKG capabilities allow users to take a 30 second reading and store the information within the Health app. This will then enable the wearer to submit a formal EKG heart reading to their doctor via a PDF. While the feature is not quite available as a functioning interaction, the EKG reader will be turned on via an upcoming software update.
Slip, fall, and trip detection is another health related addition for the Series 4. Using the age information that is registered to the device, if the wearer is more than 65 years old, this functionality is enabled. If a slip, fall, or trip is detected and no movement is followed for more than one minute, the watch can automatically call emergency services.
Several new watch faces are included with watchOS 5, the stock software on the new devices. Animated vapor, water, and fire faces fill the new OLED screens to the exact edge, showcasing the extra 30% real estate.
Although the new designs may appear more dramatically across the Series 4 faces, any previous generation with watchOS 5 can set the new animations. Note, the Series 0, first released in April 2015 is not able to receive the watchOS 5 upgrade.
Apple Watch Series 4 is currently in low supply worldwide. There are wait times for online orders, particularly for the stainless steel models. The new gold color only comes in stainless steel and perfectly matches the iPhone XS and iPhone XS Max.
A small price increase was ushered with the newest models. The 40mm aluminum model with GPS + WiFi starts at $399, 44mm jumps to $429. 40mm with onboard cellular starts at $499 and 44mm at $529.