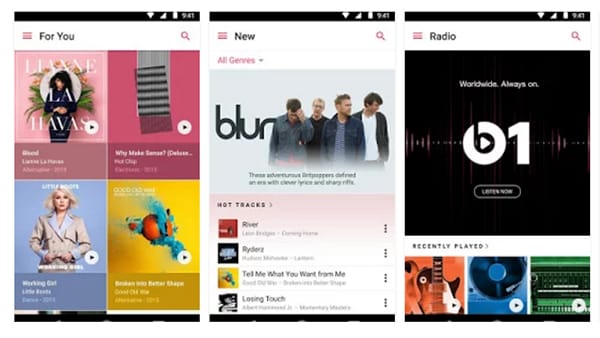 Apple released the beta version of Apple Music for Android devices yesterday, November 10, 2015. It is available to users in all the same regions the iOS version of the app is available in, except China. Apple Music, the company's music streaming service that competes with the likes of Google Play Music and Spotify, is now available in the Google Play store. Recently, unofficial images of the beta version were leaked, giving Android users the most detailed look at the app yet, until the launch yesterday. Now that the app is available, here's exactly what users can expect.
Features
Apple Music for Android will offer even more features than its iOS-based counterpart, although the added features may not be terribly important to most users. For instance, the Android version allows users to customize the size of the app's cache for storing music, something iOS users can not do at this time. While, albeit, a minor feature to some, people with large song libraries will appreciate the addition. This thoughtful feature also shows that Apple is treating Apple Music for Android seriously and is trying to develop a solid app users will enjoy – hopefully transitioning them over from other popular music apps.
Similar to the iOS version, Apple Music for Android will feature:
The Apple Music Catalog, which gives users access to specific songs
For You: recommendations based on personal preferences and ratings
New: music curated by Apple editors
Radio: Beats 1 music, interviews and radio shows created by Apple editors
Connect: inspiration, photos, music and videos by your favorite artists
Playlists: Create your own music mixes – similar to Spotify
According to The Verge, the only features not currently available on Android, compare to the iOS version, are music videos and a family plan – those upgrades still require Mac or iOS. However, according to the app description in Google Play, videos are coming soon.
Android User Interfaces
When using Apple Music for Android, users might feel like they're in a wormhole that transports them between the Android and iOS realms. In some instances, Apple's relying on built-in Android elements. For instance, the navigation isn't a tab system, like iOS users are used to. Instead, it uses an Android-style sidebar. In other areas, though, Apple has kept its iOS appearances. For example, the "For You" page of Apple Music for Android looks just like the page that the iOS version has.
The Apple Music for Android beta version is currently available for a free 3-month trial period. After trial is over, the app will cost $9.99 per month, which is what iOS users currently pay. Download the app and tell Apple what you think by rating the service. Many current users are reporting that the new beta version is still "a little buggy."