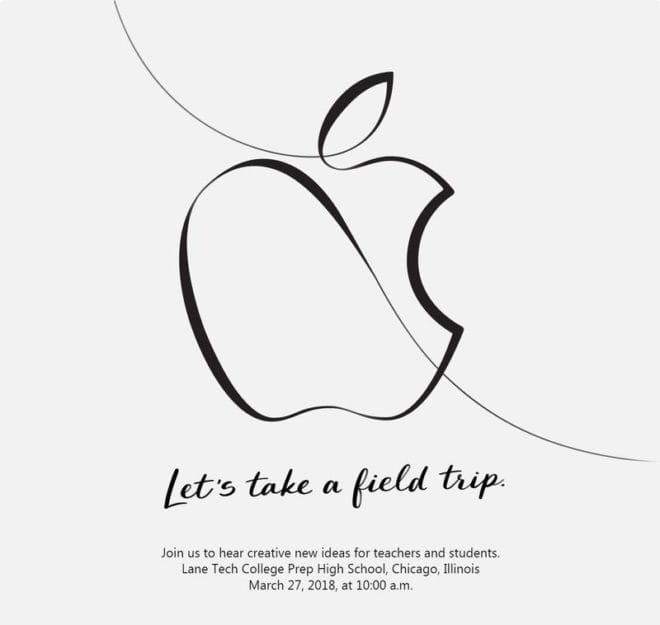 Apple sent out invitations for an upcoming media event on March 27 at 10:00 a.m. local time. The Apple media event, which is expected to focus on Apple's investment in tech and software for education, will be held at Lane Tech College Prep High School in Chicago, IL. It is not uncommon for Apple to host events during the spring quarter, but it's surprising this event will not be held on the new Apple Park campus in Cupertino. Announcements are expected to range from coding training software to a new color iPhone X.
Apple Media Event March 27
Typically announcements are held on Apple's own campus, or nearby Silicon Valley locale, such as San Francisco or San Jose. For example, the upcoming Worldwide Developer Conference will be in San Jose. This event raised a few eyebrows in the Apple tech community for being hosted by a Chicago high school.
With the event being hosted at a location not prepared for the bandwidth requirement of a live stream, it is assumed presentations will not be available for viewing. If this is the case, many recent hardware rumors may be true: there will be cheaper versions of existing hardware, but no new-to-market hardware.
Hardware Rumors
Over the previous two-to-three weeks, analysts have claimed upcoming discounts to existing hardware lines. This is supported by current sales on existing, low-end Apple hardware. Entry level iPads have been as cheap as $250. The 5K iMac was recently on sale for $1,000 off MSRP. Entry MacBook Pro models have also seen recent non-traditionally steep discounts. Typically, this pattern is followed by a cheaper price being announced by Apple, or a new model with updated, yet less expensive internals.
Apple Pencil
Speculations peg iPad and Apple Pencil as the two devices which may see the most attention at this educationally-focused event. Apple has a long history of getting iPads into students' hands using official Apple-to-Education programs. Currently, the low-end iPad model does not allow for Apple Pencil operability, and both are still fairly pricey for bulk orders. It is possible Apple will announce an updated entry-level iPad, which could hit around $275-$300 and work with the Apple Pencil. The Pencil itself may see its first update, or a cheaper entry level edition could be pushed to market.
MacBook
MacBook Air has also seen steep discounting across major retailers. As the entry level laptop, by price point, it is possible this line will receive hardware updates and/or pricing model changes. It is the only laptop left, that does not contain a Retina screen and one of the most aging products still offered.
iPhone
iPhones could see a small upgrade as well. It is rumored the iPhone SE will get a small spec bump, if anything at all. iPhone 8 or X may see a new colorway, including the originally rumored blush gold model.
Apple Watch
Apple Watch is unlikely to see any changes, even though it has been a spring update in the past. Just this week Apple announced, via press release, there are new colors coming to several of the watch band lines. It is safe to assume, this will be the only mention of Apple Watch updates this spring.
The Apple media event will be held Tuesday, March 27. However, it is unknown if the presentations will be available for live viewing by the public.