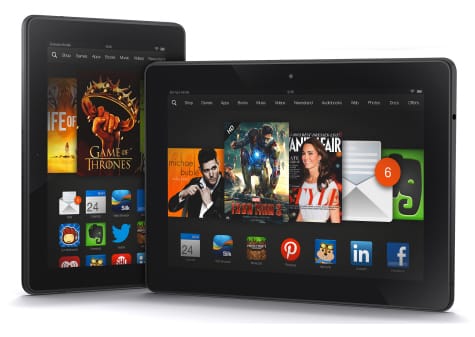 Amazon released their Kindle update in November with the Fire HDX 7 and 8.9 inch. In December, Amazon announced an interest-free Kindle Fire payment plan to boost holiday sales. The payment plan requires 25% down with another 25% due every 90 days.
The Kindle Fire 8.9 starts at $379. The biggest downfall of the Kindle tablets is not having a true Android system, but instead running Fire OS. However, Amazon does a good job of providing a lot of content to make Kindle Fire a competing budget tablet.
Kindle Fire HDX 8.9-inch
Compared to its predecessor, the HDX is smaller and lighter than the Fire HD. The HDX 8.9 features an 8 MP camera (not included on the 7-inch version). There is no microSD slot for extendable storage or HDMI port on either tablet sizes. The tablet comes with 16 GB of storage and 2048 MB of RAM. The 8.9-inch LCD screen is 2560x1600px and 339ppi.
Kindle Fire HDX 8.9 and 8.9 LTE Tablet Holders
We have a Kindle Fire HDX 8.9 tablet holder now available. This holder is also compatible with the LTE version of this tablet.