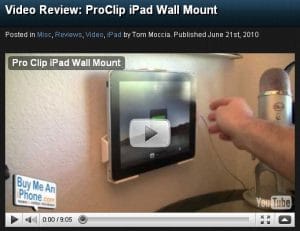 BuyMeAniPhone.com Video Review of ProClip USA's Apple iPad Mounting Solutions for the car, home and office. The ProClip Wall Mount.
Rating: 8 out of 10
Pros: Gets your iPad off your desk and onto the wall, very sturdy, comes in white or black, on swivel can be in portrait or landscape, nice cutouts, solid feel.
Cons: Need a swivel clip to move from landscape to portrait.
Overall: Overall the ProClip iPad Wall Mount enables you to get your iPad up off your desk and have it mounted on a nearby wall. With the additional swivel mount and movable clips you can move your iPad to multiple locations throughout your home.
You can buy the ProClip iPad Wall Mount for $39.99 as well as other add-ons by visiting the ProClip website.