Holiday Gift Guide 2019
The holidays are upon us! It's officially time to start searching for the perfect gift. Help make sure your loved ones stay safe this holiday season with a quality phone mount for their car to eliminate distracted driving. ProClip specializes in a two-part mounting solution. Get started by selecting a mount for your exact make, model and year of your vehicle. Then select the phone holder that best fits your phone. We have holders that are designed to fit with a case or without. Get a jumpstart on your holiday shopping with phone holders for this season's hottest new phones.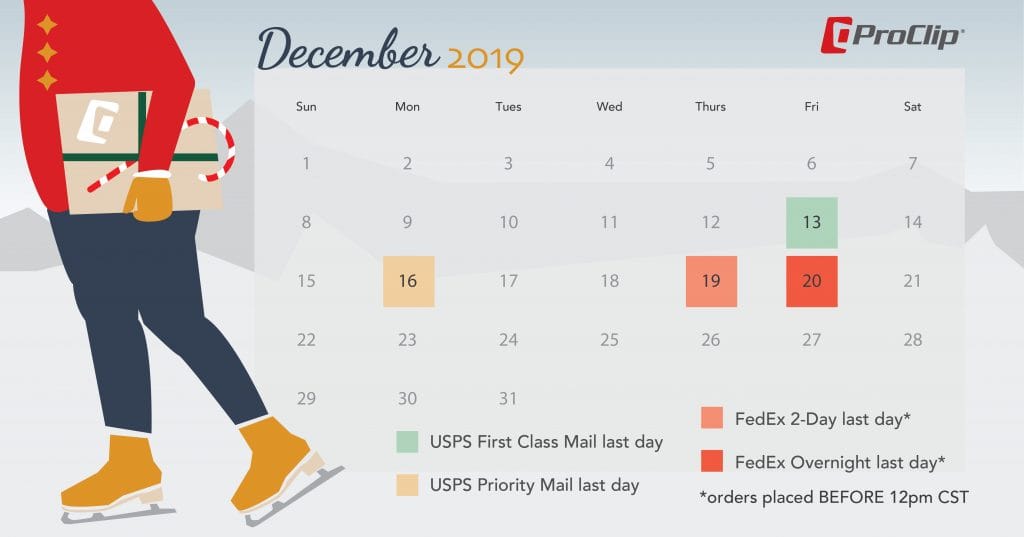 ProClip USA Shipping Calendar
If you want to receive your order before December 25th, you should order before the following dates:
USPS First Class and USPS Priority
Deadline:

Friday, December 13, 2019
If you order on or before December 13th, your order should arrive by Monday, December 23rd. Due to the holiday season and high-demand of the free USPS First Class shipping option, orders may not ship the same day. Please choose an upgraded shipping method if ordering after December 13th.
USPS Priority
Deadline:

Monday, December 16, 2019
FedEx 2-Day
Deadline:

Thursday, December 19, 2019
FedEx Overnight
Deadline:

Friday, December 20, 2019
Please Note
ProClip USA offices will be closed Monday, December 23 – Wednesday December 25 to allow employees to have additional time at the holidays with family. All orders placed after Friday, December 20, 2019 at 12:00 pm CST will not be processed until December 26 at the earliest.
ProClip receives shipments of new parts daily and fulfills orders the same day we receive them. Deadlines can shift one day to account for inclement weather or manufacturer delays. Backordered parts and international orders do not apply to standard holiday shipping deadlines.
We suggest placing your order sooner, rather than later to guarantee the fastest delivery possible. Please contact customerservice@proclipusa.com if you have any questions related to the product or inventory availability.