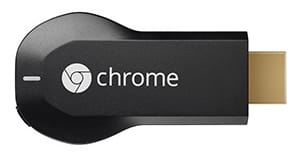 So you have a brand new smartphone or tablet and it's great. You can play games, surf the web, listen to music, and watch videos.
But have you ever wanted to show what you are watching on your phone to a room full of people? Or maybe use your phone as a remote control for Netflix? Well now you can.
Google Releases Chromecast
Google has just launched a device called the Chromecast. It is a small dongle that plugs into an HDMI port on your TV and connects to your home WiFi network. Once connected, it allows you to "cast" things from your phone, tablet, or computer to the TV.
Currently the android apps for Netflix, YouTube, Google Play Movies & TV, and Google Play Music all support the Chromecast. So if you are using one of these apps on your phone or tablet you can press the "cast" button and it starts playing on your TV instead.
You can then use your device as a remote to control play, pause, rewind, etc. You can also use the Chromecast to send any Chrome web browser window to the TV. This opens up the possibility of watching any online video from your PC on the TV. Google has also announced support for iOS devices in the near future.
What Makes Chromecast Great
So what is the big deal when a lot of devices offer this same functionality? Simple, the Chromecast is cheap. The Chromecast retails for $35.00. For less than half the price of most set-top boxes you can get a lot of the same functions.
Google has also opened the Chromecast's software kit up to anyone who wants to use it. This means in the coming months we will see a lot more apps with the "Cast" button.
Google is trying to merge online devices with living room entertainment, and for $35.00 they have a very good chance of succeeding where others have failed. This includes Google's own Nexus Q device which was announced last year but never released.
If you decide to pick up a Chromecast, take a look at our ProClip Phone and Tablet Tabletop Stands so you can have a nice place to set your tablet or smartphone while it is acting as your remote.