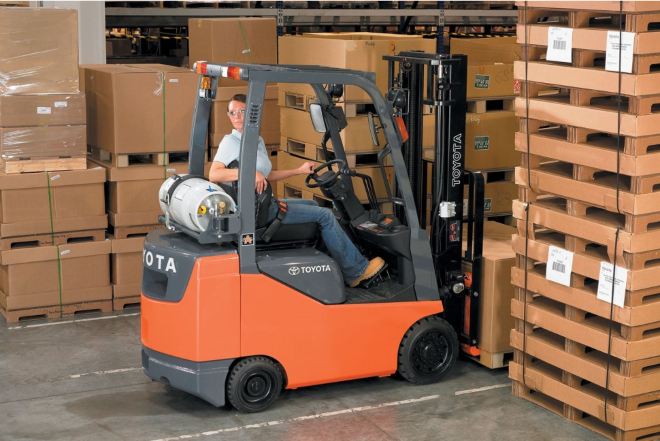 Best Forklift Models For the Modern Warehouse
To stay competitive in any industry in the 21st century requires an investment in technology. Take warehouses that require the use of forklifts. If it has been a few years since your company has shopped for the best forklift models, this technology has come a long way. To help you sort through the many options, here are the top three biggest selling brands of forklifts for warehouses and distribution centers.
Toyota Industries Corp.
According to Material Handling and Logistics, the largest lift manufacturer on the planet is Toyota Industries Corp. As No. 1 on the Annual Top 20 Lift Truck Suppliers for 15 years, Toyota earned nearly 50 percent of its total annual revenue from forklifts alone in 2018. Considering how the company also manufacturers RAV4, Yaris, and automotive parts, that is a substantial amount of money. The electric forklifts by Toyota offer plenty of options ranging from the three-wheel electric to the stand-up rider model.
KION

Group

The German-based KION Group is the second biggest forklift manufacturer with several international truck brands conglomerated as one. These include forklift brands Linde (sold as Fenwick in France), OM STILL, Voltas, and Baoli. With an annual revenue in 2017 of more than $8 billion, the KION Group is running a close second with Toyota. If you are interested in sourcing one of the KION Group lifts, check out their KION North American factory in Summerville, South Carolina.
The
Jungheinrich

Group

Another German brand, the Jungheinrich Group ranks third among the world's biggest forklift manufacturers, and second among European brands. The variety of forklifts by this group is outstanding. Choose from counterbalanced forklifts, order pickers, reach trucks, turret trucks, walkie stackers, and other specialized electronic lifts. Here in the US, the Jungheinrich Group is represented by Mitsubishi Caterpillar Forklift America Inc. in Houston, Texas. This is where you can find your dealer for new or used forklifts by the Jungheinrich Group.
Choosing the Best Forklift
The bottom line for selecting a forklift for warehousing is to find a machine that serves your business's needs. One way to ensure you are getting the most out of your forklift is to upgrade your unit to include ProClip forklift mounts. These adjustable mounts fit most models on the roll cage. Find out more by contacting ProClip today!