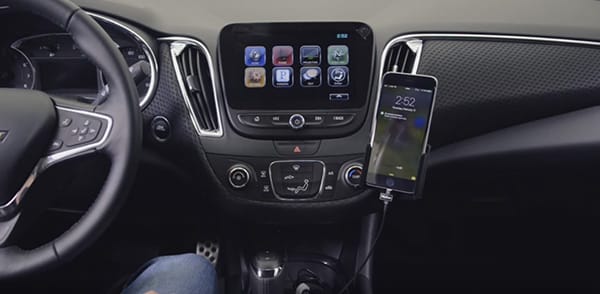 If you're a fan of Chevrolet and are in the market for a new car, you've more than likely considered the 2016 Chevy Malibu. The latest midsize car from Chevrolet is packed with a ton of great high performance, safety and technology features. It gets an estimated 37 miles to the gallon, comes with Wi-Fi, Onstar, and Chevrolet MyLink. With the Chevrolet MyLink, you have the option to use Apple CarPlay. Apple CarPlay is an easy way to access your iPhone apps and features through the MyLink display. If you're planning to take advantage of the Apple CarPlay or Android Auto, you may also want to consider a phone mount for additional benefits.
2016 Chevrolet Malibu Phone Mounts
The first part in our two-part mobile mounting solution for the 2016 Chevy Malibu is our custom built dashboard mount, which snaps discretely into the seams of your dash, keeping your phone within reach while providing added benefits to the driver. Our dashboard phone mounts are easy to install and do not require you to drill holes or dismantle your dashboard. The dashboard mount comes with a pre-drilled hole pattern for the device holder, which can be easily attached anywhere on the face plate.
Our 2016 Chevy Malibu angled car mount is located to the right of the center console for the best view possible, keeping your eyes where you need them most – on the road.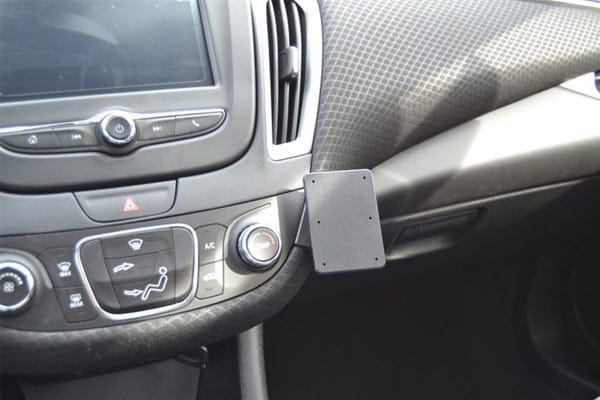 Custom Phone Holders
The second part of our two-part solutions are our custom phone holders. Our phone holders, which are designed to securely fit your phones exact dimensions, come in a variety of charging and non-charging options. Each phone features tilt swivel, allowing you to tilt your phone 20 degrees in any direction and swivel 360 degrees between portrait and landscape modes.
If you are looking to take advantage of the Apple CarPlay, we offer a great selection of iPhone car phone mounts. Our iPhone holders are custom fit for use with or without cases! We even make holders that are specific to popular case brands such as Otterbox and Griffin, and we make a variety of adjustable holders to accommodate many other cases.