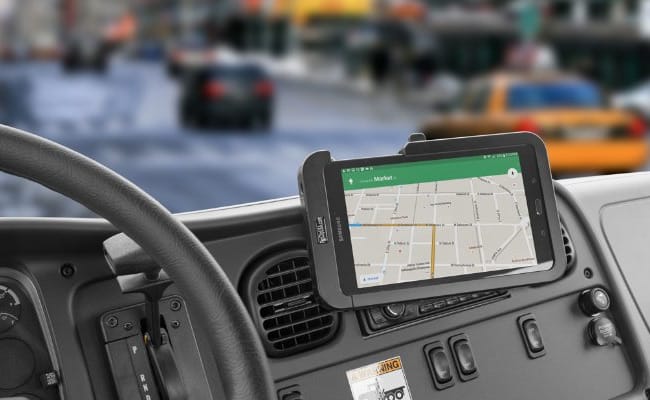 According to CNet.com, the Samsung Galaxy Tab E 8.0 is one of the more affordable 8-inch 4G LTE tablets, especially when you consider that you can easily add it to your data plan, unlike comparable tablets. Businesses have noticed, and this cost savings as well as the advanced business applications make it an up and coming choice.
Although reasonable, at $250 each, companies want to have something to protect their investment. The ProClip Heavy-Duty Tough Sleeve is an all-in-one custom fit solution that keeps your company's tablet investments safe. The Heavy-Duty Touch Sleeve not only protects your device, but can streamline workflow by offering a mountable solution for your fleet vehicles or in warehouse environments. In addition, ProClip's extensive warranty is redeemable for up to one year after purchase – further protecting your technology investment.
Ready to rough it, the Tab E 8.0 Heavy-Duty Tough Sleeve offers:
Custom Fit
This custom fit mounting solution is ideal for day-to-day business operations and is driver removable with its easy slide-on & off design. No need to buy another protective case, this Heavy-Duty Tough Sleeve is made specifically for the Tab E 8.0. Cutouts and easy access to all buttons are available, for ease of use without compromising durability. In addition, the sleeve is compatible with 12 and 24-volt vehicle systems.
Rugged Design
Drop tested and built to last, ProClip Heavy-Duty Tough Sleeves are made from high grade plastic, and offer up to 4 foot drop protection on concrete. Bumpers on the inner wall of the sleeve reduce vibration and protect the tablet if dropped. The non-scratch felt pads also protect the Tab E 8.0 when inserting or removing the device.
Charging Function
Offering many types of charging options, the Tab E 8.0 Heavy-Duty Tough Sleeve features a sliding power block to keep it running all day long. Simply dock your Heavy-Duty Tough Sleeve on the Sliding Power Block and be immediately connected to power.
With a tablet solution, your team will operate with ease. The ProClip Heavy-Duty Tough Sleeve solution for the Samsung Galaxy Tab E 8.0 is now available.
What daily operation is the Tab E 8.0 helping your business streamline? Have specific questions about device protection? Comment and let us know!