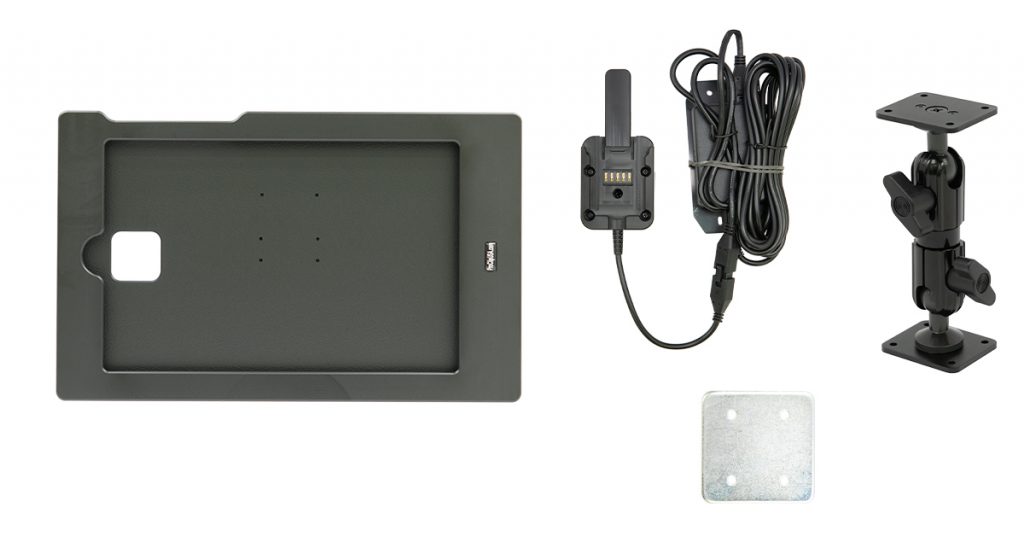 An official partner of Samsung Electronics America, ProClip USA now offers complete ELD bundles featuring all necessary mounting components. The ProClip Tough Sleeve is custom designed to fit the Samsung Galaxy Tab A 8.0 LTE (2018 SM-T387). Extremely durable with 6-foot drop protection, the ProClip Tough Sleeve tablet holder fully encapsulates the tablet and the integrated charging connection. The Samsung ELD bundle mounts securely to any fleet dashboard using the included hardware.
Samsung Galaxy Tab A ELD Bundle Item #100909
The ProClip Tough Sleeve tablet mount is the perfect way to protect, display and power your Samsung ELD. ProClip's Quick Release Power Dock (QRPD) has durable charging contacts and allows for high volume one-handed insertion and removal of the tablet. The QRPD integrated charging functionality virtually eliminates failure rate caused by damage to the external charging port.
Using adjustable wingnuts, the flexible 5-inch Universal Pedestal swivels 360 degrees and tilts 210 degrees to the desired viewing position of the driver. The additional metal backing plate anchors the connection behind the dashboard for a solid hold. Power your ELD mounting kit all day long with 10-30 VDC, 1.1 A input and 5 VDC, 2 A output charging cables for fixed installation.
Samsung ELD Mounting Key Advantages
All-in-one ELD mounting kit to simplify buying and installation
Reliable integrated charging and data using the ProClip Quick Release Power Dock
Sleek design and rugged construction for demanding daily use throughout the enterprise
Provides secure and easily accessible location inside the vehicle
AOBRD to ELD Deadline
What is an AOBRD? Fleets using the Automatic On-Board Recording Device must transition and become ELD compliant. The deadline for all drivers using AOBRDs to convert to ELDs is December 16, 2019. For pricing and more information download the ELD bundle PDF or contact ProClip USA at 1 (800) 296-3212 or enterprisesales@proclipusa.com