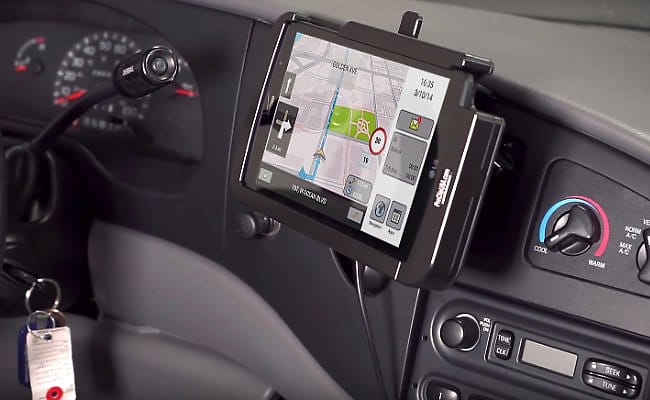 A new generation of technology has become a vital resource for many fleet management and transport services. By on-boarding mobile devices into their businesses, fleet managers can ensure that their operations are streamlined and running more efficiently than ever before.
Fleet Apps for Transport
The implementation of fleet management software and mobile applications has quickly become the industry standard. Mobile apps are helping fleet and transportation businesses meet their operational goals by providing GPS technology, in-cab communications, fleet tracking, fuel management and mileage tracking. Implementing these technologies has given companies a competitive edge and has helped to improve customer service, capacity and on-time delivery.
Tablets for Fleet Vehicles
The LG G Pad X 8.3 is an Android tablet that is recognized and trusted by industry leaders and is the perfect mobile computing device. Capable of managing highly complex and integrated logistical tasks, the LG G Pad X 8.3 features:
Android Lollipop OS
8.3-inch LCD display
1080 x 1920 px, 265 ppi
8 MP camera, 2 MP front-facing
Qualcomm Snapdragon 615, 64-bit processor
2 GB RAM
16 GB built-in storage, 9 GB expandable storage
4800 mAh battery (360 hours stand-by)
4G Wi-Fi connectivity
LG G Pad X 8.3 Holders
Device deployment in fleet vehicles doesn't have to be complicated. Whether your fleet is small, medium or large, unique tablet solutions, like the ProClip Heavy-Duty Tough Sleeve, offer advanced security and simple installation. The LG G Pad X 8.3 Tough Sleeve is a rugged, all-in-one custom fit solution with multiple charging options for fleet management and other related industries.
Additional Features:
Up to 4 Foot Drop Protection on Concrete
Driver Removable – Easy Slide-On & Off Design
Offers Easy Access to the Camera & All Buttons
Key Lock Available for Added Security (Optional)
Compatible with 12 and 24-volt vehicle systems

*Pictured above: LG G Pad X 8.3 Heavy-Duty Tough Sleeve – For Hard Wired Installation – #559825
As technology evolves, so should your business. Using a protective tablet enclosure will lengthen the lifetime of your device, protecting it from daily use, while managing workflow and securing data.
ProClip USA has over 10 years of experience providing high-quality mobile device holders and mounts that help to facilitate efficiency between mobile technology and industry. Our innovative designs improve worker safety and productivity by keeping mobile computing devices secure, fully-charged and within easy reach. Whether it's a smartphone, tablet, barcode scanner, GPS, two-way radio or other mobile computing device, ProClip USA has a mobile mounting solution to meet your businesses specific needs.