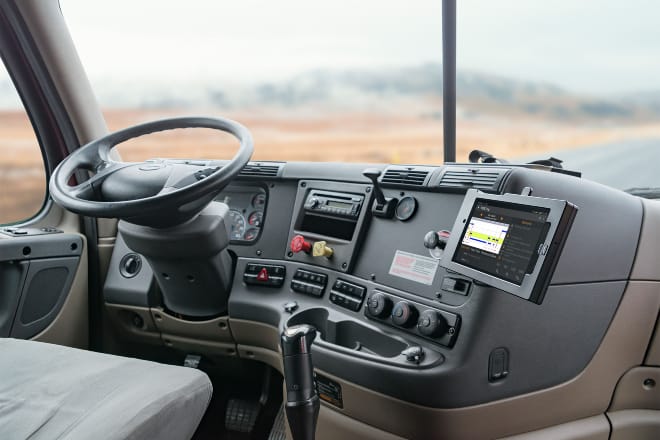 As you consider which type of electronic logging device system to install in your fleet, start with the operating system. In the ELD market, there are two main operating systems that you will come across—iOS and Android. Here are some of the registered ELD systems according to the operating system that you can use to manage your fleets.
ELD Software for iOS and Android
Here is a randomly selected list of several of the currently registered ELD systems with the Federal Motor Carrier Safety Administration that use the iOS operating system:
As you notice, most of the electronic logging devices are available for more than one operating system. If you are interested in the ELD with the greatest flexibility in operating systems, Compliance Now by Geosavi is the clear winner. However, other companies like Trucker Path, Penske Truck Leasing, and JJ Keller are trucking community brands that are familiar. Some drivers may want to go with a system that is coming from a company they already support as customers.
Choose Your Operating System
If you currently use an AOBRD or other tablet-based fleet tracking system, then you will want to consider staying with the same OS. The setup of a particular operating system differs from other OS including with ELDs. By staying with one system, your fleet of drivers and your IT team will have an easier time of keeping up with data monitoring, repairs, and maintenance.
Finding a Mounting Solution
Another aspect of an electronic logging device system is how you will manage to set up the hardware. You need to be able to securely and safely mount whichever ELD you choose in your truck or fleet of trucks.
Whether you opt for an Apple iPad or Samsung Galaxy for your main tablet, we have a solution for you. Check out our Apple iPad Tough Sleeve and our Samsung Galaxy Tough Sleeve for your fleet. Each Tough Sleeve is designed and hand-tooled in Sweden from the best materials on the market.
Contact ProClip USA to request a quote on your order of Tough Sleeve tablet mounting protectors.